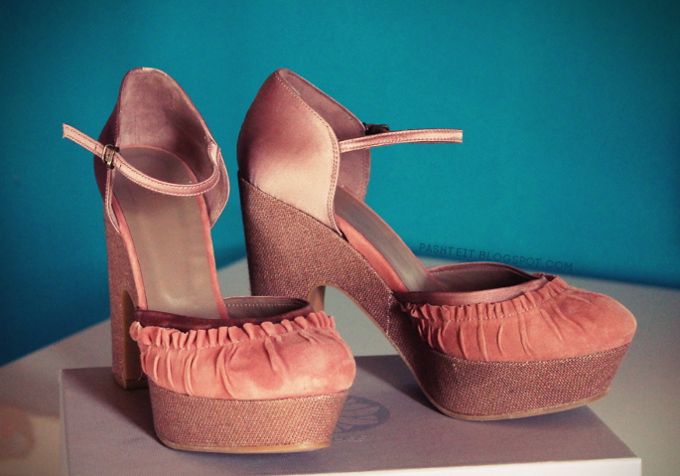 These are from Hoss Intropia and I can't even begin to tell you how happy I am that I finally bought them. They were on my wish list for months but due to the relatively low price, I was hesitant; I was afraid the quality might disappoint. Oh, how wrong I was! I fell in love with them the second I took them out of the box.
They're made from satin and suede, the suede being sort of ruffled over the satin, and the lining is of course made of fine leather. Thanks to the ankle strap, chunky heels and platform they're so comfortable, I can see myself walking in these for hours. I'll be in Chicago (♥) later this year and I'll definitely take these with me for sightseeing in style! I think they're feminine and romantic but not try-hard-sexy, if you know what I mean? I hope this makes sense. It's my kind of shoe, all the way! And thanks to the color scheme, they go with most of the things in my wardrobe.
The best part is that they were on sale for like, less than half what I had to pay for some other shoes I don't even like as much. Both thumbs up for cuteness & amazing quality at a great price!
Then I also bought these black velvet Michael by Michael Kors wedges. Now, I know you can get black wedge sandals on pretty much every corner but to me, the details make the shoe. These are black velvet (velvet! For summer! Love.) with patent edges and the wedge heels are super pointy: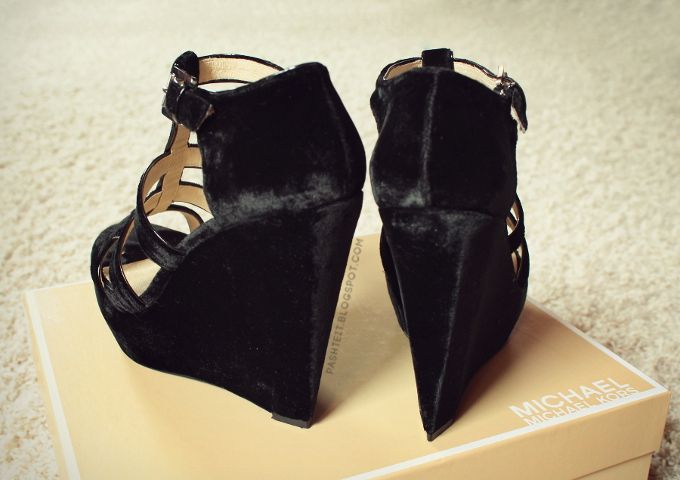 Pretty cool in my opinion. I also just love velvet, especially against a bit of shiny patent... I have a feeling these will stick around for fall when they will meet cute socks or possibly even opaque tights. Just a feeling.
They were on sale, too, and I have to say personally I wouldn't have paid full price for them because of the quality: it's
okay
in my opinion, not bad but nothing to write home about, either. Still I'm happy I got them because I have so few black heels and I can never get enough velvet to be honest.
Thank you for visiting, I promise the next post won't be about shoes. Maybe.
♥